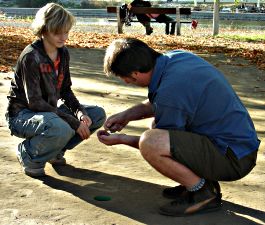 World Marbles Championship and International Marble Tournaments
Players from all countries are welcome to participate in the World Marbles Championship and other international tournaments. Our goal is to find people like YOU and help them to start marble tournaments in their countries, play together in the World Marbles Championship and establish World Marbles Federation. Feel free to contact us if you like this idea.

World Marbles Championship has been organized since 2005. From 2011, it is organized once every 2 years to make it easier to gain necessary traveling funds for more distant countries. As soon as there will be enough participating countries in particular continents, the continental marbles championship will be held in the years when no world marbles championship will be organized.

See below the list of previous World Marbles Championships and other international tournaments as well as future events.
| | | | | |
| --- | --- | --- | --- | --- |
| Tournament | Date | Place | Info | Results |
| Czech Open 2012 | August 18th, 2012 | Sedlec-Prcice, Czech Republic | Info | |
| World Marbles Championship 2011 | July 23th, 2011 | Prague, Czech Republic | Info | Results |
| Slovak Marbles Championship 2010 | September 1st, 2010 | Velke Levare, Slovak Republic | Info | Results |
| Zahori Championship 2010 | August 1st, 2010 | Velke Levare, Slovak Republic | Info | Results |
| World Marbles Championship 2010 | July 24th, 2010 | Prague, Czech Republic | Info | Results |
| Velke Levare Championship 2010 | May 8th, 2010 | Velke Levare, Slovak Republic | Info | Results |
| Slovak Marbles Championship 2009 | September 1st, 2009 | Velke Levare, Slovak Republic | Info | Results |
| Zahori Championship 2009 | August 1st, 2009 | Velke Levare, Slovak Republic | Info | Results |
| World Marbles Championship 2009 | July 18th, 2009 | Prague, Czech Republic | Info | Results |
| World Marbles Championship 2008 | July 19th, 2008 | Prague, Czech Republic | | Results |
| Velke Levare Championship 2008 | May 11th, 2008 | Velke Levare, Slovak Republic | | Results |
| World Marbles Championship 2007 | July 21th, 2007 | Prague, Czech Republic | | Results |
| Slovak Open 2006 | July 30th, 2006 | Velke Levare, Slovak Republic | | Results |
| World Marbles Championship 2006 | July 22th - 23th, 2006 | Prague, Czech Republic | | Results |
| Velke Levare Championship 2006 | May 6th - 7th, 2006 | Velke Levare, Slovak Republic | | Results |
| World Marbles Championship 2005 | July 23th - 24th, 2005 | Prague, Czech Republic | | Results |
| Czech Open 2004 | July 24th - 25th, 2004 | Prague, Czech Republic | | Results |
| Czech Open 2003 | July 26th - 27th, 2003 | Prague, Czech Republic | | Results |
| Czech Open 2002 | January 19th, 2002 | Prague, Czech Republic | | Results |
---